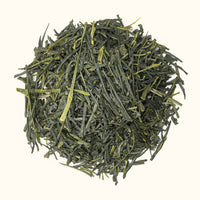 Meiryoku Sencha | 煎茶めいりょく
If you're looking for a good, everyday tea that pairs well with any meal and can be sipped throughout the day, then this is the one for you.
This tea is grown on an organic tea farm in Kirishima. Opening this bag releases a spicy, black-peppery scent that belies the delicate flavour. Despite its spicy aroma, the flavour of this tea is soft and gentle, almost like oatmeal.
A great tea for a great price!
[This tea won the Fine Product prize at 2021 Nihoncha Award]
Origin: Kirishima, Kagoshima, Japan

Cultivar: Meiryoku (めいりょく)

Harvest date: April 25th, 2022

Shading: 10 days

Tasting notes: Oatmeal | Fruity | Clean & smooth
Leaf: 8g

Water: 240ml

Temperature: 80°C

Steeping time: 60 seconds