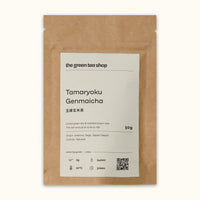 Tamaryoku Genmaicha | 玉緑玄米茶
This is not your ordinary genmaicha! 
Our genmaicha is blended with roasted brown rice and first-flush tamaryokucha, adding a fun Kyushu twist. It's light and smooth, yet rich in umami. The refreshing cereal notes make this a satisfying cup that pairs great with meals.
With a lower caffeine content, it's a great nightcap as well.
Origin: Ureshino, Saga, Japan

Cultivar: Yabukita (やぶきた)

Harvest date: Early May, 2022

Shading: 10+ days

Tasting notes: Popcorn | Rice | Dry grass
Leaf: 6g

Water: 240ml

Temperature: 80°C - 90°C

Steeping time: 30 - 60 seconds

To bring out the umami, try brewing at 80°C for 60 seconds. If you prefer a refreshing, aromatic cup, brew at 90°C for 30 seconds.